The perception of a meme is interesting when not given the context when it was first conceived. The original photo of this baby and his father was featured on the family photographer's blog in 2011. Then a year later Dave the father posted the cropped picture of his son on Reddit then it landed on the front page with 1133 upvotes. This surprisingly enough was the birth of a new and interesting meme life cycle.
The life cycle of a meme such as this one is interesting to find out the origins behind where the picture was taken and who else was in the original frame. This meme became so popular in my opinion because of its relatabilty factor in that everyone has seen a baby but maybe not seen a baby make a face such as this one. For me that is a big factor when trying find a meme that is funny and that I can connect with. After coming up with the proper factors to generate the meme the only other thing to do is publish it out to the world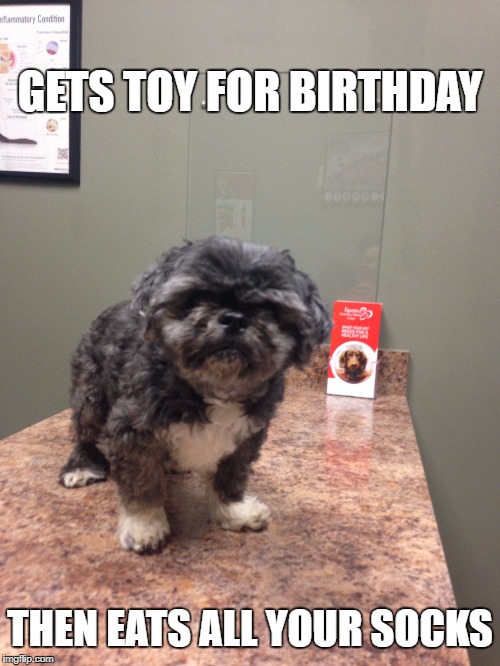 Above is a meme that I made of my dog peanut. The picture context is him at the vet for a check up after he ate all of my socks chewing big holes in all of them. Prior to him eating all of my socks he got a toy for his birthday. Everyone who has a dog or knows someone that has a dog in their life knows the struggle when the dog eats your belongings. The relatablity for me in this meme is that it is my dog then knowing the common struggle of having a dog.